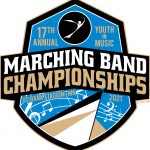 Tickets for the 2021 Youth In Music Championships go on sale Wednesday, Sept 8, 2021 at 12:00pm CDST!
New in 2021 is a new ticketing system, powered by PurplePass, and online availability of both Reserved and General Admission tickets.  While we will staff a Box Office at the stadium on the day of the show, ALL attendees are encouraged to purchase their tickets online in-advance of the show.
Ticket prices remain the same at $30 for Reserved seating, $25 for General Admission, and $15 for current Students and Seniors (65+).  Tickets will also incur a $3 Service Fee per ticket.  Tickets must be purchased for each of the morning (Session I) and evening (Session II) events.
Visit our Tickets page and be sure to read all of the information provided, especially since we're using a new system.