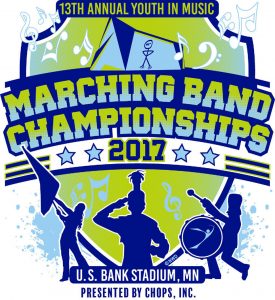 View the entire day of YIM Championships online.
Cost: $35
Review the Terms of Use, then purchase below.
Session 1: 8:45am – 5:00pm CDST
Session 2: 6:45pm – 10:15pm CDST
Terms of Use:
1. Subscriber will not copy, screenshot, post, nor take the property of Youth In Music in any form.  YIM has secured copyright, union workers and rights to stream this live event and is the sole owner of this live streaming.  If any content from this live streaming is found on youtube, websites, band Facebook sites, etc it will be reported to the authorities and owner of those accounts will be fully liable for the infringements under copyright laws.
2. Subscriber *must* have a current YouTube account *before* subscribing to this event. If you do not have a current YouTube account, please visit this site for more information: Create An Account on YouTube
3. Payment for this private youtube event is non refundable.  YIM will be available to problem solve with streaming, but this technology is so new that we can not guarantee that streaming will be available for all performances. Our goal is to provide full coverage of event through a multi camera view that is also being played on the large video boards in the stadium.  Session 1 8:45-5pm.  Session 2 6:45pm-10:15pm
4. Registration process may take up to 15 min.  Please login before your scheduled band to make sure you give YIM staff enough time to process your registration and get you the information necessary to view the event.
5. Subscriber will not share login nor passwords.  If found to do so, subscriber and shared IP addresses will be blocked from the event without refund.
Press the button below to purchase this streaming event.
Frequently Asked Questions
YIM Live Stream
I didn't receive an email with the link to watch the stream.
If you are using Gmail, check messages outside of your primary mailbox.  It might be in the social or promotions tab.
Make sure you are checking the correct email account, it will be sent to the email you provided which may be different than the one linked to your paypal account.
Make sure you are logging into the correct YouTube Channel, if you have mutliple sign-ins/channels.
Check your spam filter.
Did you receive an email receipt from your transaction?  If not you may have not completed your purchase.
Email us at youthinmusiclivestream@gmail.com and we will resend your link to watch the stream
When I click the link it says I don't have permission to view the stream. Why not?
You are not logged into YouTube or you are logged in with a different account.  Make sure you are logged into YouTube with the email linked to your YouTube account that you provided to Youth in Music.
I can see the stream but the image is fuzzy/soft, how do I make it look better?
YouTube guesses at the best resolution for the device you are using, if you the video is low in quality you can try a higher resolution.  On a computer click the symbol that looks like a gear in the lower right of the viewer.  On mobile devices it can vary, look for three dots in row and click them, somewhere you can pick a different resolution try 720p or 1080p.  Slow internet and/or device can also be the cause of a low quality stream.
Why is the video starting and stopping frequently?
This is most likely due to a slow internet connection or the device you are using is old & can't stream video very well.  Try a different device and/or a different connection to the internet.
Will you be streaming all of the performance and award ceremonies?
Yes we will be streaming the entire event.
Is it possible to record part of the video stream?
Due to copyright law recording any portion of the video stream is not allowed.  Anyone violating these terms will be prosecuted to the extent of the law.
Will the performances be available on YouTube to watch after the event?
No, due to copyright laws we can't make performances available after the event.  However, both award ceremonies will be available.
When should I purchase and connect to the Live Stream?
Don't wait till the last minute before a specific performance to start streaming.  It's good idea to test your connection well before the band you are wanting to see.  Watch other videos on YouTube before you start streaming to make sure your speakers are working properly.
How do I watch the Stream on my Smart TV?
You may not be able to send the link to your Smart TV but there is a work around.  First view the stream on a computer or mobile device.  Then on your Smart TV open the YouTube app and go to recently view videos.
When can I watch my favorite ensemble?
A schedule of the days performances is available on the Youth in Music website, every attempt will be made to stay on schedule but times may vary throughout the day.
The stream stopped – what do I do?
There is a chance we might have to restart the stream at some point(s) during the day.  If this is needed we will make every attempt to do this between performances.  The stream will automatically restart, if not you will have to manually refresh the stream or your application.