The Youth In Music Hall of Fame was inspired by Butch Dufault and his dedication to his students, community and bands. Butch was a long time director at Waseca where half the school was in band. At one point Butch had 200 students in the marching band alone. The trophy is named the Butch Dufault Memorial YIMMY.
The Hall of Fame was the brainchild of Todd Dufault to honor his father and those like him who dedicated their entire careers to band, excellence, achievement and leadership in the marching arts. To be nominated and selected into the YIM Hall of Fame the current members gather over a meal to nominate, discuss and select the next class into their group. The person needs to have had a profound and positive impact on the marching arts in our region.
The current class gets to observe YIM from a suite and invite their family and friends to attend. All YIM HoF Members retain VIP status at the event. We honor these members as Lifetime Achievement in the marching arts.
Class of 2021
Ray Gove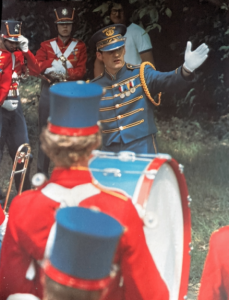 Raymond Gove has played an integral part in marching activities in the state of Minnesota for decades. His work as an educator and an adjudicator has impacted thousands of students and fostered the growth of the marching arts in Minnesota.
Mr. Gove hails from Hastings, Minnesota and is a graduate of Hastings High School. He received his Bachelor's Degree in 1960 from St. John's University and a Master of Music Education from Minnesota State University, Mankato in 1967. Mr. Gove also served as a member of the Minnesota Army National Guard for 26 years, 20 of which were as the Commander and Band Master of the 34th Division "Red Bull" Band.
Mr. Gove's career with marching bands spanned 39 years and his teaching experience stretched across the State, from Williams, Minnesota near the Canadian border, to Freeborn, Minnesota, not far from the Iowa border, but it was the Central Minnesota community of Long Prairie where he landed and made his mark. During his 36 years in Long Prairie, he succeeded in building a nationally recognized marching band which traveled coast to coast during his tenure. Appearances included the Minneapolis Aquatennial, the National Cherry Blossom Festival, the Festival of States, the National Cherry Festival, Klondike Days, the Calgary Stampede, the Tournament of Roses Parade, the Macy's Thanksgiving Day Parade and the Hula Bowl.
In addition to his accomplishments with his high school band, his 34th Division Red Bull Band supported many military ceremonies and appeared in many parades and concerts in cities throughout the State of Minnesota, including playing for President George H. W. Bush.
After retirement, Gove continued to adjudicate marching bands at competitions across the United States and furthered the mission of promoting music in our schools by working with Eckroth Music. In addition to marching band, Mr. Gove taught jazz band, concert band, pep band, elementary band and was the music department chair until his retirement in 1999.
In 2014, Mr. Gove moved with his wife Joan, from Long Prairie back to their childhood home of Hastings. Mr. Gove has three children and three grandchildren, all of whom have been active participants in music. Mr. Gove continues to enjoy making music as a member of the River Valley Community Band and is a frequent patron of the Minnesota Orchestra.
---
Leon J Sieve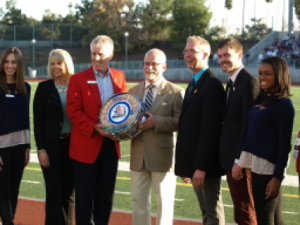 Leon Sieve joined the faculty of Rosemount High School, Rosemount, Minnesota in the fall of 2002 and is in his 29th year of teaching instrumental music. Leon received a Bachelor of Music Education Degree from South Dakota State University, Brookings, South Dakota in May, 1993 and a Masters Degree from the American Band College at Southern Oregon University, Ashland, Oregon in July, 2005.
Leon's responsibilities at Rosemount High School include conducting the RHS Wind Ensemble, he is a woodwind specialist for the band program, team teaches the fall marching band, woodwind chamber ensemble, winter pep band, solo and ensemble, and coordination of the award winning RHS Color Guard. He also directs the musical "pit" for the outstanding RHS Drama Department and has held the role of department coordinator for the music, art and dance department.
Leon's concert bands have twice been selected to perform at the Minnesota Music Educators Conference – Mid-Winter Clinic. In 2002 the Milaca High School Symphonic Band was selected to perform and in 2021 the Rosemount HS Wind Ensemble was selected for this prestigious honor. The Rosemount band performed in the 2014 Rose Parade in Pasadena, CA and the 2017 Macy's Thanksgiving Day Parade in New York City
Leon began his band experience in the small Southwest Minnesota town of Adrian in the 4th grade.  He credits the excitement and energy of then band director Joe Silko in getting him started on his instrumental music path and the saxophone. In high school, Leon was drum major of the marching band and was a part of the concert, jazz and pep bands within the program.  After graduating for Adrian High School, Leon then moved on to SDSU where he was a member of the "Pride of the Dakotas" Marching Band playing alto saxophone and was also a member of the South Dakota State University Symphonic Band and Jazz Program.  Leon auditioned for and was selected as a member of the 1989 and 1991 Madison Scouts Drum and Bugle Corps based in Madison, WI.  Leon began his color guard career performing with the Scouts and is thankful to have been taught by Michael Turner, David Veda, Mike Volves and Chad Duggen during those performing years.  During the summer of 1992, Leon was on color guard staff with Black Gold Drum and Bugle Corps based in Tulsa, OK.  All three of the drum corps seasons were filled with long rehearsals, gym floors, over-night bus trips, lots of sandwiches and tons of memories. "I am forever grateful to the people I met, the places I was able to perform and the experiences I had while touring the country as a drum corps member"
Mr. Sieve was awarded a "Leadership in Educational Excellence" award and is the 2001 recipient of the "Minnesota Distinguished Young Band Director Award." He is listed in "Who's Who Among America's Teachers" and is a member of Music Educators National Conference (MENC) the Minnesota Music Educators Association (MMEA), and the Minnesota Band Directors Association (MBDA) and has served as the Metro High School Representative to the Board of Directors. He was inducted into Phi Beta Mu in February, 2003. Leon is a past President of the North Star Colorguard Circuit.
Leon states, "Congratulations to the all the marching bands who are performing at Youth in Music today. Having just been through a very challenging year and half as arts educators and student musicians, it is amazing to see the creativity, excellent and excitement on the field. Kudos to all the students who share the passion of band with each other and the audience today. We will come out of the pandemic stronger than ever!
---
Jim "Smitty" Smith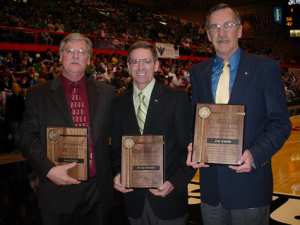 Jim Smith was chosen by the YIMMY Hall of Fame peer group to be inducted into the Class of 2021.
Jim graduated from Yankton HS in 1958. He received his Bachelors of Fine Arts in Music Education from the University of South Dakota.
He began a 42 year teaching career at New Underwood as band and Choir director in 1965. In 1966 he became the Band and Choir Director for Irene Public Schools transferring to West Lyon Community Schools, Inwood Iowa as Director of Bands. In 1980 he began a 27 year term as Director of Bands at O'Gorman High School in Sioux Falls.
The O'Gorman Marching, Concert and Jazz Bands under S,mioth's leadership hae won numerous awards in local, regional and national competitions. In 2004 the O'Gorman Marching Knights represented South Dakota at the dedication of the World War II Memorial in Washington DC. He was the recipient of the South Dakota Outstanding Bandmaster Award in 1995, he was finalist for the Sioux Falls Teacher of the year in 1993 and was inducted into the Tankton HS Fine Arts Hall of Fame in 2003. Smith was featured in the December 2005 issue of School Band and Orchestra Magazine as one of the 50 Directors Who Make a Difference.
Jim was an enthusiastic director and a constant supporter of the youth of Sioux Falls. Under his direction the O'Gorman Band won numerous awards on the street, marching field, and concert hall. Among his many personal awards was the coveted Distinguished Service Award from the SDHSAA in 2006 and the Distinguished Service award from Phi Beta Mu in 2008. He was an active leader in the South Dakota Bandmaster Organization serving as President as well as many other capacities where his expertise best served his fellow educators. He promoted high school band programs all over the state and was appreciated by his fellow teachers and students.
Class of 2020
David Haugen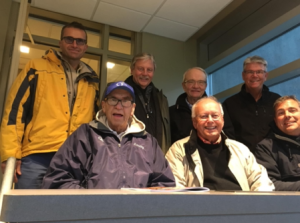 David Haugen is being inducted into the Youth In Music Hall of Fame for his lifetime achievements in teaching instrumental music and marching band. His years of experience include teaching at high schools in Goldfield, Ia, Windom MN, South St Paul MN, and most recently Sioux Falls Lincoln and Roosevelt SD. He concluded his career teaching in elementary and middle schools of Sioux Falls.
Mr. Haugen received his BA Degree from Luther College in 1964 and MA Degree from the University of Northern CO in 1968.
He has served as guest conductor, clinician and adjudicator for festivals and contests in SD, MN, IA, WI, NE and AZ. Bands conducted by Mr. Haugen have received Sweepstakes Awards at many regional and national events. These include the Red Riover Exhib ition, Cherry Blossom Festival, and the Rose Blossom Festival. The Anoka Marching Band direct3d by Mr. Haugen was selected to be the official Minnesota band marching in the 1976 Presidential INaugural Parade in Washington, DC. The South St Paul Band was Minnesota State Fiar Champions during his tenure there. Articles authored by Mr. Haugen have appeared in The Instrumentalist and South Dakota Musician.
Mr. Haugen's personal accomplishments include: Outstanding Band Director Award from Phi Beta Mu, Distinguished Band Master Award from the American School Band Directors Association, Carlo Sperati Award for Excellence in Music Education from Luther College, Outstanding Music Educator Award from the National Federation of Interscholastic Music Association, Distinguished Service Award from phi Beta Mu, and the Lincoln High School Hall of Fame. He has served as the Band Chairman for the SDMEA, Regional Representative for the National Federation of Interscholastic Music Associaiton, President of the South Dakota Band Masters Association and President of the South Dakota Phi Beta Mu Chapter.
Mr Haugen's wife, Joan, is a retired elementary teacher. Daughter, Clara, is a fith grad teacher and son, Kyle is also a music educator.
Congratulations to David Haugen for being inducted into the 2020 Class! We honor you here as we were not able to do it properly last year in times of the pandemic.
---
Wayne Ivers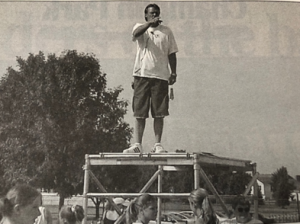 Graduated from Willmar, MN
Bachelor of Science in Music Education – Bemidji State University
Master of Arts in Education – St. Mary's College
Post Masters – Illinois State University, University of South Dakota
Wayne Ivers has been a band director in Minnesota for the past 44 years. He has been employed at Marshall High School since 1983. Upon his arrival in Marshall the band program consisted of 175 band members in two concert bands, one jazz band, one pep band, and a marching band that totaled 95 members. Currently the band program consists of 225 members involved in four concert bands, two jazz bands, two pep bands, and a marching band that totals 180 members.
Prior to his arrival in Marshall Mr. Ivers was the Band and Choir Director in Clara City, MN for 6 years. While in Clara City the program grew from 85 to 130 in grades 9-12 alone. The Clara City Marching Band was a two-time State American Legion Field Marching Class A Champion.
Mr. Ivers has served on several state and local boards and committees including two terms on the Minnesota Music Educators State Board, Ex-Officio Officer and co-founder of the Marshall Music Boosters, board and coaches committee member for the Marshall Amateur Hockey Association, committee member for Marshall American Legion Baseball, and has been the Chair for several youth Hockey and Baseball Local, District, and Region tournaments as well as the Chair of the 2003 13B State Baseball Tournament. Mr. Ivers also was President and Chief Negotiator of the Clara City Education Assoc. and the Marshall Education Association Chief Negotiator since 1998.
Wayne Ivers is one of the founders of the Pursuit of Excellence Marching Band Competition hosted in conjunction with the Marshall Music Boosters, Marshall Public Schools, and Southwest Minnesota State University. Pursuit of Excellence annually includes 18 of the best Marching Bands from Iowa, Minnesota, Nebraska, Wisconsin, and South Dakota.
As Director of the Marshall Tiger Marching Band the band has become one of the top groups in the upper mid-west. They have won Sweepstakes Field Marching Championships in Minnesota, South Dakota, Wisconsin, and Iowa. In the Minnesota State Marching Band Championships the band competes in Class 4A placing 3rd twice and never lower than 5th. The Marching Band has competed twelve times in Bands of America Competitions placing in the top five in Class five times, and five times in the top three in their class. In 2005 the band placed 2nd in Class AA and 12th in Open Class Finals. In 2012 they were the St. Louis Super Regional Class A Champion also receiving the Class A Award for Outstanding Music Performance and Outstanding General Effect.
In 1995 The Marshall High School Music Department was recognized by the State of Minnesota as a Program of Excellence. In 2005, 2012, and 2017 Marshall was selected by the NAMM Organization as one of the top 100 Communities in Music Education in the United States. In 2012 Mr. Ivers was named Minnesota's representative to School Band and Orchestra Magazine's "50 Directors Who Make a Difference". The Minnesota Music Educators Association named him the 2019 Minnesota Music Educator of the Year.
Mr. Ivers has judged Concert Band, Solos, Ensembles, Jazz Bands, and Marching Bands throughout Minnesota and South Dakota over the past forty plus years.
Class of 2019
Bob Carlson
Bio Coming
---
Pam Diem
Bio Coming

Class of 2018
Keith Johnson
Bio Coming
---
Gary Swanson
Bio Coming

Class of 2017
Roger Bjorklund
Bio Coming
---
John Greene
Bio Coming

Class of 2015
Dave Gudmastad
Bio Coming