Saturday, October 11, 2014
10am-3:30pm
Farmington High School
20655 Flagstaff Ave
Farmington, MN 55024
Youth in Music Band Championships has moved again! Unfortunately the Chanhassen stadium was damaged by all of the spring rains, thus forcing us to find a new venue at a rather late date.  The 2014 home for Youth In Music Championships will be Farmington High School on Saturday October 11, 2014. 
Our schedule in 2014 will include Class A, AA, and AAA Championships in parallel with Minnesota State Championships in Class A, AA, and AAA,  similar to our afternoon sessions, previously in the Metrodome. After receiving feedback from band directors, we will NOT hold the evening Regional Championships until we return to an indoor stadium.
TICKETS:
Reserved tickets will go on sale soon.  Please note this is a smaller stadium, and front sideline seating will be limited. Reserved tickets will be sold for the entire middle section, roughly between the 43 yard lines.  If the middle section sells out, we will open more reserved seating for sale on either side of the 43 yard lines.  Note that this will push the general admission seating out further. The reason for this is to accommodate those that wish to buy reserved seats, in a smaller venue with limited seating.
Band Directors: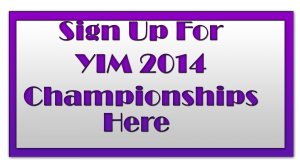 CAMERA POLICY
Small, non-professional, single frame "point and shoot" cameras are allowed into the venue. However, use of "professional cameras" is prohibited at YIM events unless the user has formal media credentials (photo ID from media employer) and prior written approval from Youth In Music. Any camera with a detachable lens or lens that extends to four or more inches is considered a "professional camera" and thus prohibited.