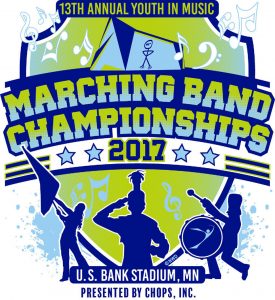 October 14, 2017 – U.S. Bank Stadium
Session I – 8:45am-5:00pm
Minnesota State Championships and Class Championships.
Session II – 6:45pm-10:00pm
Includes the winner of each class (4 bands), plus the next 6 highest scoring bands from the first session.
See schedule below
Featured Guests
Special Artists from the Marine Band New Orleans will be performing at Youth in Music on October 14, 6:45 pm! Don't miss out on this unique opportunity!
Tickets
Reserved tickets are on sale now! Click the Ticket button on the right.
Volunteer
Volunteer and see the show for free! Sign up here.
Scholarships
Youth in Music will once again be offering scholarships to graduating seniors. Five $500 scholarships will be awarded. Scholarship applications are available via this link. The application deadline is Sept 29.
Register Your Band
To register your band for this exciting event, contact Brent Turner at brent@youthinmusic.org.
U.S. Bank Stadium – click HERE for guest information
Camera Policy
Small, non-professional, single frame "point and shoot" cameras are allowed into the venue. However, use of "professional cameras" is prohibited at YIM events unless the user has formal media credentials (photo ID from media employer) and prior written approval from Youth In Music. Tripods, monopods, "selfie sticks" and cameras with a lens longer than 6" (detachable or non-detachable) will NOT be permitted into the stadium.
Session I Schedule
| | | |
| --- | --- | --- |
| Band | Class | Performance Time |
| Rosemount Alumi | National Anthem | 8:45 |
| Luverne | A | 9:00 |
| Harrisburg | A | 9:15 |
| Park Center | A | 9:30 |
| Blaine | A | 9:45 |
| Farmington | A | 10:00 |
| Andover | A | 10:15 |
| Hastings | A | 10:30 |
| Pipestone | A | 10:45 |
| Coon Rapids | A | 11:00 |
| Anoka | A | 11:15 |
| UW Lacrosse | College | 11:30 |
| Mitchell | AA | 11:45 |
| Waseca | AA | 12:00 |
| Lourdes | AA | 12:15 |
| Champlin Park | AA | 12:30 |
| Minnetonka | AA | 12:45 |
| Break | | 1:00 |
| Brookings | AAA | 1:15 |
| Chippewa Falls | AAA | 1:30 |
| Grand Rapids | AAA | 1:45 |
| Roosevelt | AAA | 2:00 |
| Awards | Class A, AA, AAA | 2:15 |
| Lincoln | AAAA | 2:45 |
| Irondale | AAAA | 3:00 |
| Eastview | AAAA | 3:15 |
| Eau Claire North | AAAA | 3:30 |
| Marshall | AAAA | 3:45 |
| Eden Prairie | AAAA | 4:00 |
| Rosemount | AAAA | 4:15 |
| NDSU | College | 4:30 |
| Awards | Class AAAA | 4:45 |
Evening Guest Performances
New Orleans Marine Band – 6:45pm
UWEC Blugold Marching Band – 9:45pm
(requires a Session II ticket)